What is a sketchbook?
* Sketchbook * Journal * Collection * Notes * Experiments * Calendar * Diary * Forum * Rubbish Bin * Gallery * Questionaire * Documentary *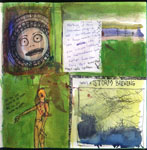 What else is a sketchbook?
Generally free of category. A safe haven for everything else to fit into, private or personal, for yourself, free from critique. Work can be in progress, raw, refined or redefined. It is a place to allow divergent thinking in lateral format. It is defined by you.